1Laundry Basket
1Chili Powder
10lb white flour
20lb bag basmati rice,
1gal vegetable oil,
10lb sugar
Minced Garlic
2-100 packet tea,
6lb vermicelli pasta,
4lb dry chick peas,
one clothing basket
4 can tomato sauce
1 bottle juice
Salt
Brown Lentils
3Ib Onions
Fresh dates.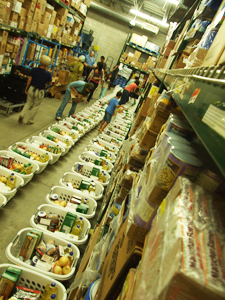 Iftaar for Human Dignity Baskets 2009
Project by The Pen and Inkpot Foundation

Help drives for Human Dignity,
Ramadan 2009
A help drive by Muslims for the needy, during the blessed month of Ramadan


Projects:

'Iftar for Human Dignity' food Basket drive
&
'Blanket, Pillow, Towel for Human Dignity' drive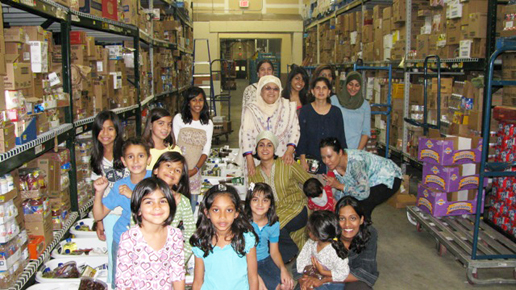 The 'Iftar for Human Dignity' food drive has returned to help those in need in the city of Fort Wayne. The baskets are ingredients of food which are given to those fasting as Fidiya, though not limited by this, as charity is also being given, as donor allocates, for other desperately needed items-equal to a basket- in a monetary form in lieu of the baskets, as the situation requires. It is also being given to non-Muslim neighbors as Sadaqah. Each basket will accommodate four people. This drive started Tuesday, August 18/09 at 1:00pm from the Walmart Dock where 117 baskets were handmade and hand delivered by the Muslim youth and adults of Fort Wayne. The second drive was September 12/09 where another 17 baskets were delivered. This equaled a donation of $5,850.00. Donations were collected throughout the blessed month of Ramadan. However, as winter is approaching and needy families have increased this year, the drive had taken a turn during the last week of Ramadan to be called the 'Blanket, Pillow, Towel for Human Dignity' drive, as required per needy family. For this Drive 100 packages were delivered equaling a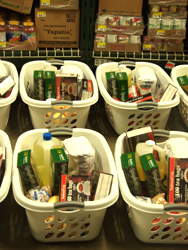 donation of $1,000.00. A total of $6,850.00, in donations. Donations will continue to be accepted after Ramadan for the second drive and/or Sadaqah for other medical and/or educational needs. Thank you Donors.
'Iftar for Human Dignity food basket'drive
= $50.00/basket
Ingredients:
20Ib Long Grain Rice, 6Ib Pasta-vermicelli, (2)100 Tea, (4) 8oz can Tomato Sauce, 1 Salt, 1ga Vegetable Oil, (2)1Ib Brown Lentils, (2)1Ib Chick Peas, (10Ib) Sugar, Minced Garlic, 3IbOnions, 1Chili powder, 3IbDates, One Laundry Basket
'Blanket, Pillow, Towel for Human Dignity' drive
:
$10.00/package of Blanket, Pillow, Towel.
The greatest lesson: We are thankful to Allah-God for being born with much and thankful to Allah-God for being given the opportunity to help others. We are thankful to the needy as they are thankful to us. Yes it's important for the right hand to not know the charity of the left hand, but there is a permissibility to expose to educate that makes people aware that there is a problem in our own communities. Doing this without hurting hearts is the challenge. Though we do as Muslims hurt each other horribly as Muslims or mock each other, which is unacceptable as God Mandates in Quran throughout.
I remind all of us again of Sura 49-Hujurat stated by Allah as we all read this but don't apply it.
At all homes to which we went we were received with greetings of peace and smiles even at times playfulness by some naughty little boys! I am hopeful everyone will remember those smiles. They also saw that 'we', little and big Muslims, were conscious of them and we cared. This aspect is also important in parallel with anonymity. I remind all of you who in the medical and other fields, who have gone to other countries to help like Muzzafarabad, Pakistan, India or Indonesia and come back, with footage to show the situation by the faces depicting what's really happening to people in their fields and their community. The difference in these cases is that one never has to deal with their problems, since it's not in one's own city, country or backyard. This is the same case with people with diseases and cancer...exposure awakens people like the Drives done by the Riley Children's hospital, The American Breast Cancer Foundation, Lilly Foundation, The Epilepsy Foundation, The National MS Foundation, The Arthritis Foundation, or Islamic Relief, Relief USA, ISNA, The American Red Cross, Mercy Corps, Habitat for Humanity etc…Philanthropy is rooted in Islam and our American Constitution which reiterates Islam's core value, as both disease and poverty are both physical disabilities, as trials in our lives, hence to give and help suffering which also, in addition to anonymity, awakens awareness, through philanthropic efforts, like ride a bike for a marathon, run a marathon, donate, do a bake sale, walk, swim, eat, fast and so on and so forth is important. As only all the Prophets protected the rights of the poor, the weak, the orphan, the sick/ill, and the women and set that as an example leading towards piety through charity. However, exposure of need especially if it's in our own town is the 'challenge', as in our case in Fort Wayne it is a delicate balance to maintain the 'dignity of the people', while giving in charity as Sadaqah, Fidiya and Zakah. May Allah-God accept all our struggles as Al-Khabir is All-Aware of All things and out intentions and actions, inshallah.
Well, it was a charitable blast, which we hope continues beyond Ramadan as we now 'Fall' into the realm of the Vernal Equinox. Your charitable efforts alhumdollillah has awakened sleep. And so without further adieu I leave you with a Du'a from Quran and Sunnah of the Prophet (pbuh) and the note of Ramadan Mabrouk and Eid Mubarak to you all! Jazakallakairan.
Surah Isra 17 verse 80 Say:
"O my Lord! let my entry be by the Gate of Truth and Honor and likewise my exit by the Gate of Truth and Honor; and grant me from Thy Presence an authority to aid (me)." Ameen, Thumameen.
Transliteration :Wa qur rabbi adkhilni mudkhala sidqiw wa akhrijni mukhraja sidqiw wa-j'al li mil ladunka sulta_nan nasira_(n).
Al-Tirmidhi HadithHadith 2482 Narrated by AbuHurayrah (May Allah be pleased with him)
Allah's Messenger (peace be upon him) used to say, " O Allah, grant me benefit in what Thou hast taught me, teach me what will benefit me, and increase my knowledge. Praise be to Allah in all circumstances. I seek refuge in Allah from the state of those who go to Hell." Tirmidhi and Ibn Majah transmitted it, Tirmidhi saying this is a tradition whose isnad is gharib.
Transliteration:an Abi Hurairah (radiya Allahu anhu) qaal:
qaala Rasul Allah (salla Allahu alayhi wa sallam): "Allahumma infa'ni bima 'allamtani, wa allimni maa yanfa'oni wa zidni 'ilman, alhamdulillahi alaa kolli haal, wa a'odtho billahi min haali ahlil naar.
"
Thank you! To all donors and the volunteers whose dedication has made this a success. Alhumdollillah! The volunteers are as Follows: Shahnaz Mirza (Mom), Amani Goma, Mariam Goma, Hagar Goma, Ibrahim Goma, Shahida AbuBakar, Mohammed Ehaab, Omar Nadeem, Shazana Nadeem, Irdina Nadeem, Iman Nadeem, Ismael Nadeem, Mahvish Shabbir, Roma Siddiqui, Rubina Shabbir, Naheed Siddiqui, Daniyal Munir, Sadia Akbar, Tarek Akbar, Hiba Akbar, Haseeb Akbar, Aisha Ahmed, Andaz Ahmed, Sara Ahmed, Sophie Ahmed, Savannah Ahmed, Hajira Khan, Zubair Khan, Simra Khan, Sireene Khan, Amer Quereishi, Tayyaba Qureishi, Malikah Abdullah, , Safia Lakhany, Haneen Anabtawi, Shazia Ghazzali, Danish Ghazzali, Sana Ghazzali, Nuzhat Mohammed, Danial Mohammed, Hadi Mohammed, Kevin Morse, Ben Herrin and Liz with Walmart. Kudo's!
A project by The Pen and Inkpot Foundation (501c3)-Tax ID#-26-3091936
The Pen and Inkpot Foundation is a 501c3 nonprofit charity: A national & local endowment
building a sustainable world, with you in mind.
*Thank you to Walmart
(Troy, Kevin, Ben and Liz), in their initiative help to provide the use of their dock and assistance.
For further information please contact:
Uzma Mirza NCARB, AIA, LEED AP
The Pen and Inkpot Foundation
President/Founder
www.pifdn.org